$25,000.
That seems to be the magic number. Any car at the show that would be of any use to me seems to run about $25,000. At least on the main floor of the
Greater Milwaukee Auto Show
. On the lower floor, where the German and Luxury vehicles are displayed, the price is more like $45,000. What happened to all the sub-20K cars? As far as I can tell, there are only a few, and they are mostly sub-compacts and stripped-down, smaller SUVs. But add in all the features "as shown" and they all creep above $20,000. How did cars get to be so expensive?
Let's take a brief step back into reality. In all likelihood, I will not be purchasing a new car this year. More likely, I will continue to drive my
1994 Geo Prizm
, which is great car, although it is getting crankier by the year and definitely starting to show its age.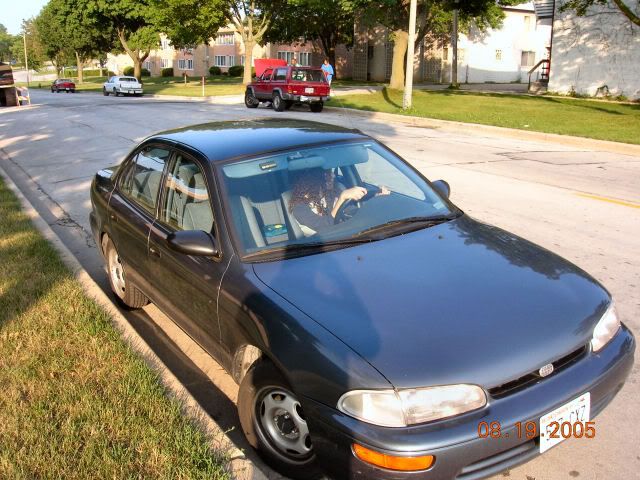 But with 2 kids getting
driver's licenses
this summer, I've been contemplating the purchase of a new vehicle. I've been reading the car magazines and looking through the papers and I still am not sure what I'm looking for. So the Auto Show is a great opportunity for me to see and feel and smell the different options.
I found that as far as I am concerned, the Auto Show has 3 types of vehicles:
1. The cars I
really
want.
2. The cars I
probably
want.
3. The cars I should
probably
get.
Looking at this rationally and logically, I need to define what exactly it is that I
need
from a new vehicle.
1. It needs to be reliable. I can't have a car that spends more time in the shop than on the road. I need to get to work and to several hospitals everyday. I don't want a car that has a transmission that suddenly falls out on the road (
cough
...PTMobile) or that has doors that sometimes don't close (
bigger cough
..
PTMobile
) where you pull in to the dealership and they say, "Oh yeah, GMC has always had a problem with the door hinges rusting." Information I could have used
before
I purchased your gas-guzzling piece of
cwap
--ahem.
Anyway, reliable, which for me means that I need to steer clear of American automobiles. Now, I have never owned a foreign vehicle before. The closest I have come has been the Geo, which by the way, is an order of magnitude more reliable than ANY OTHER CAR I have ever owned, and which I attribute to the fact that it is secretly a Toyota Corolla. Other than that, I have owned a string of American crapmobiles from GM and Chrysler whose built-in obsolescence features have been all-too obvious.
So probably a Japanese vehicle.
2. It must be able to handle SNOW. I'm fed up with a-swishin' and-a slidin' all over the road 6 months out of the year. I want big tires and All-Wheel-Drive. I don't want to have to
cancel any more gigs
due to wimpy transportation.
Which brings me to
3. It must be able to transport my stuff.
I know, I have tended to gravitate towards sedans in the past.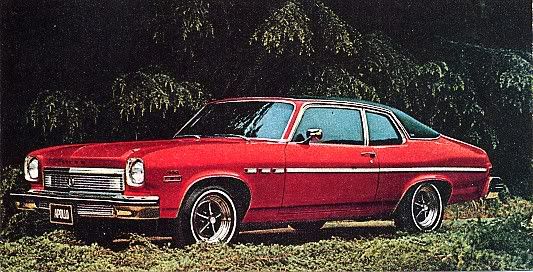 My first was this charming little 1974 Buick Apollo that I inherited from my drummer back in '86. The roof was rusted through, so we covered it with bookbinding tape. I don't want to say the car was past its prime when we got it, but bits of it were always falling off as we drove down the road. Why, one time my keyboard player was riding in the back seat and asked me, "hey, was that
your
mirror that just flew past me?" Another time, we were stuck in a snow-filled parking lot, and Mrs. B, at that time my fiancee with finesse for driving in snow (aka Ms. Wisconsin) tried to force her way out of the lot by gunning the engine. The car didn't move, but the muffler shot its way out of the lot and into the street (where it came to land, curiously enough, next to three other mufflers). That car ended its life abandoned on a side street in lower Manhattan.
In between cars we also went through a few Plymouth Voyager minivans and a 1983 Chevy Citation which was the epitome of
cwap
. But when I moved to Wisconsin, I got my own second personal car, which was this boat-like 1972 Ford Torino. Yes, the same car as Starsky and Hutch, just a few seasons earlier. I again inherited this from someone, this time my wife's aunt. I really wish I had held on to this baby. It is now considered to be a classic muscle car. At the time, though, it was a tank that didn't quite fit into my garage (which has the scars to prove this), didn't have any sort of traction in snow, and refused to start or just plain stalled whenever it rained. A delightful vehicle. I traded it in for a radio on my new Geo.
So, the Geo has been a fine little car, but...it's
little
. I can't fit a PA system, two huge speakers, a bass cabinet, a bunch of guitars and mic stands and speaker poles into it. Instead, I've been driving the PTMobile, but again, that thing is trouble, and it leaves Mrs. B stranded with 6 kids and no transportation.
Which leaves me looking at SUVs. They meet my criteria. They are generally reliable (at least the Asian ones are), they can handle snow, and they have enough room for my stuff. Let's just leave the German ones out. They are cool, and there is a collection of them that I have to walk past in the hospital parking lot, like a kind of Bavarian Gauntlet, but they are way too expensive for me. Plus there's that whole "Nazi slave-labor" thing and my mom would hate me so let's talk Toyota. Probably a Toyota RAV-4.
Sticker price: $25,000