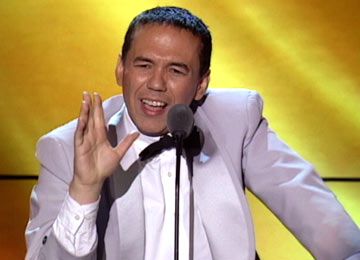 Have you ever heard of
The Aristocrats
? It's a movie, released last year, about an infamous old joke. Actually a series of jokes. These jokes have two things in common:
1. The punchline is always "The Aristocrats!"
2. The wind-up leading to the punchline is so absolutely filthy that it can never be said in public.
So who tells these jokes? Comics. They tell them to each other, each trying to out-do the next. It's one of those movies that I will never see.
I bring this up because a similarly little-known fact about doctors is that we have our own
Aristocrats
jokes. Except that ours are usually true and don't share a common punchline. But we each carry with us a selection of anecdotes that are so delightfully perverse and yet so obviously filthy that we can never tell them to anyone. Except other doctors, of course.
And so it was during one of my infamous little
IM chats
with Doctor Bean today that I stumbled my way into another one of these jokes. True story. Something that happened to me today. And as I got into it with the good doctor I began to realize that this would make for one heck of a blog post.
But once again, good judgment took over and I realized that there was no way that I could possibly write about it. Not because of confidentiality. That wouldn't be in danger. It's just
too filthy
. It is
way
beyond the boundaries of good taste. Even for
this
blog. But it would be
hysterical
.
Just for kicks, I'm going to open this up for opinions. Here are the options:
1. I can post the story here.
2. I can let Doctor Bean post the story at
Kerckhoff Coffeeshop
.
3. I can post the IMs between me and Bean at Kerckhoff.
4. I can bury it somewhere else and leave clues for those who have no taste.
5. I can post it here but blank out the dirty parts.
6. None of the above.
Let me know what you think.