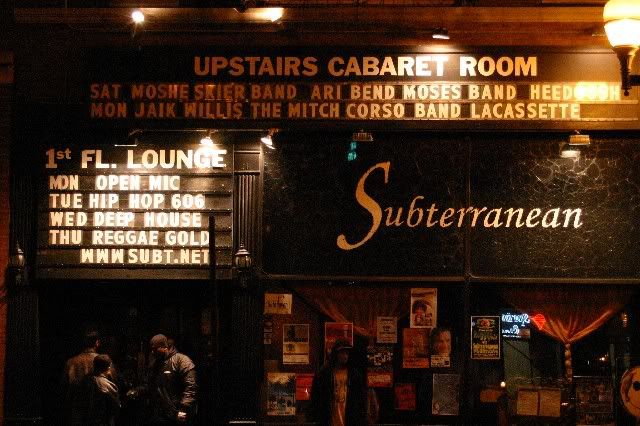 photo by Gregory Titievsky
This past Saturday night I had the privilege of playing at
Kfar Jewish Art Center's Purim Bash
at Subterranean in Chicago. 3 bands played.
Heedoosh: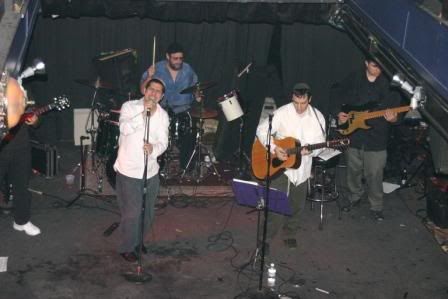 photo by Gregory Titievsky

Unfortunately I had to miss most of this band, which featured
Velvel
on the guitar. But what I did manage to hear was very, very good. The singer was confident and on-key, the guitars sounded sweet, the drums, by ubiquitous Chicagoan Matt Kanter, were rock solid, and the bass player played with a pick! It's too bad the singer moved to New York, but I expect to hear great things from him in the future.
Ari Ben Moses Band: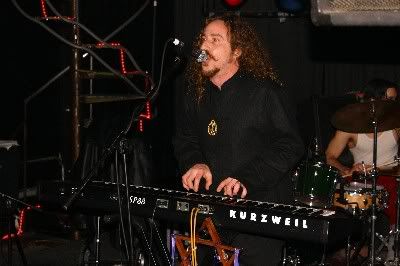 photo by Gregory Titievsky

I hadn't heard this band before, and was very pleasantly surprised. These guys play a well-crafted and tight blend of reggae, ska, Latin and "world" music. I normally don't go in for most of that, but they played so well and with such enthusiasm that I really enjoyed it. For part of the set I was upstairs in the "green" room (dressing room?) with Mendel, my guitarist (attempting to preserve my hearing!). Even he was impressed with these guys. And the music was all Jewish--not Hebrew, like my stuff, but taken from Jewish prophets, or about Israel, or spirituality. Nothing non-Kosher in the lyrics. From the Green room, they reminded me a lot of Matisyahu, but because they look like any other Reggae-World music band I guess they don't merit the hype.
Oddly enough, although they play what I would consider to be Jewish music, they don't play any Jewish events, sticking instead to the club scene for the most part. Once again, this reminds me why an organization like
Kfar
is so badly needed.
Moshe Skier Band: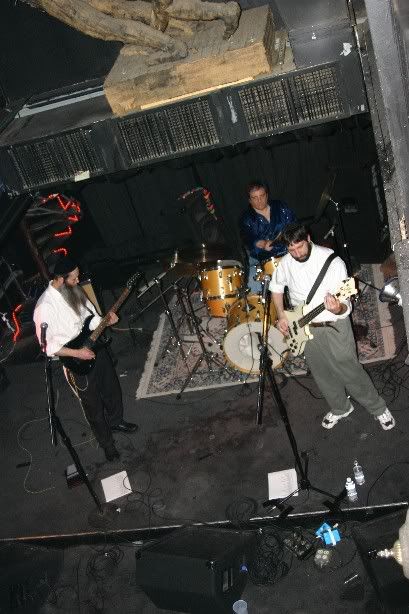 photo by Gregory Titievsky
It was after midnight when we finally took the stage, and unfortunately, some of the crowd was gone, including several people who came to see me and some bloggers (I guess they're people too) who had to leave. (My record for not meeting
Cara
, or even knowing what she looks like, remains intact). I don't know what we sounded like in the audience. From on-stage, I think we sounded pretty good. Despite the late hour we old men still had a lot of energy and rocked steady. And loudly. As usual, people were blown away by Mendel's guitar playing. I've played with this guy for 6 years and I still don't know how he does it. He can hand me his guitar, and it doesn't sound like I'm playing the same instrument. I think the music comes straight from G-d into his fingers. That's the only way I can explain it.
In the end I think everyone had a good time. I enjoyed hanging with
Velvel
and
his wife
. I'm very appreciative to the people who risked life, limb, and auto theft to come down to Wicker Park and hear us play, (even if they had to leave before or during our set). Thanks, too, to Gregory Titievsky for shooting pictures. Hire him for your Bar Mitzvah. And once again, thanks to
Kfar Center
for thinking outside the box.