The search is finally over. I've found the perfect
Machzor
. A
Machzor
is a prayer book that is used on the High Holidays. The services on these days being as incredibly long as they are, it becomes very important to find a
Machzor
that is comfortable and convenient to use. For hours. And hours. And hours. I'm not kidding.
For the purposes of this blog, I'm going to limit the discussion to
ArtScroll
Machzors
. Everyone knows ArtScroll has had the market for Jewish Prayer books wrapped up since the 80's. There's no sense in arguing about it. An ArtScroll prayer book brings with it all of the innovations that the company has brought to the Twentieth Century, or in Jewish years, the Fifty-Seventh Century. Like punctuation. And readable type. And ArtScroll has a consistent policy of including all the relevant prayers. So, while my wife seems to prefer prayer books that were last typeset in 1909, are usually missing pages or whole services, and often leave out individual prayers (instead leaving little place markers, like "
kaddish
" or "
ledovid
", forcing you to start turning pages to try to figure out where these prayers are), the rest of the civilized world has moved on to ArtScroll. Boy, I bet I'm going to get a lot of ArtScroll Google hits now. ArtScroll ArtScroll. They should send me money. Or a free set of
Haggadahs
.
So let's discuss the contenders:
Exhibit A: The Zichron Moshe Machzor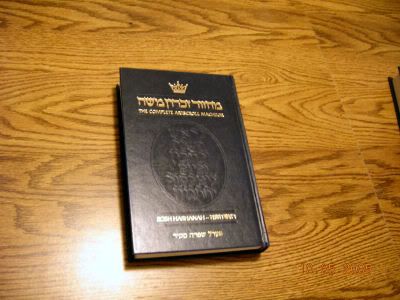 This is the standard hardcover English/Hebrew edition used since the 1980's. Yes, I know it's
Nusach Sfard
. There are no
Nusach Ashkenaz
minyanim on the Milwaukee West Side. Deal with it.
Exhibit B: The Shirat Moshe Machzor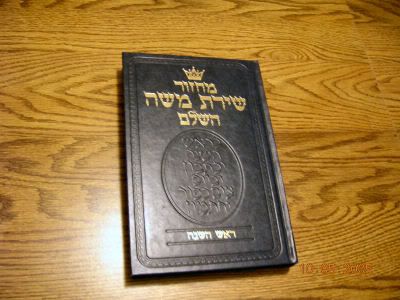 This is the book I just bought, and to which I am composing this blog. I love you.
Mmmmah!
(that was a kiss sound)
Exhibit C: The mini Zicron Moshe Machzor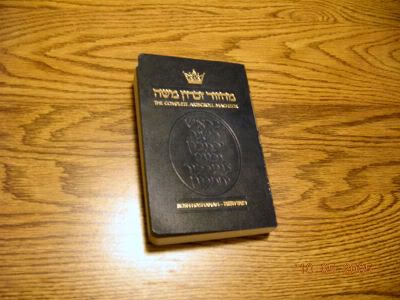 This is the small, softcover edition of the Exhibit A that my son Curly was forced to use over the holidays.
OK, Exhibit B wins.
What, you want reasons?
Alright. First of all, Exhibit B has proportions that are thinner and wider than the other two. The advantage of that will be more clear in a moment, but suffice it to say that it is also more comfortable to hold as a result. You're just gonna have to trust me on this.
Second, while Exhibits A and C have an English translation on every other page, Exhibit B is all Hebrew, which means that it has half the number of pages as the other two editions, and is therefore lighter. Well, not exactly half. The layout is different, because
Third, Exhibit B has NICE BIG LETTERS which makes it easy to read if you lay it on a table or
shtender
. Exhibit A has smaller, but still legible letters, which is fine, but if you spend a lot of time in front of a computer screen, and let's face it, you all do, you're going to need to hold this baby up to your face to read it. Exhibit C is a miniature version of Exhibit A, which means that anyone over 40 should not even consider considering it.
Fourth, and this is something that is very important to me, since I have a
shtender
(book stand). At least this time I did. That's another blog. Anyway, there's a real difference in the quality of these books which is related to the weight, proportions, and paper quality. It becomes apparent when you lay the book down on a table or
shtender
. Why would you want to do that? Well, the service can last six or seven hours. Believe me, you're going to want to put the book down.
So if you put Exhibit A down, and open the page to, let's say,
Ashrei
…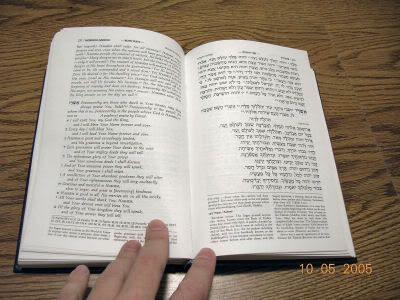 It looks OK as long as you're holding the page open. But if you take your hand away…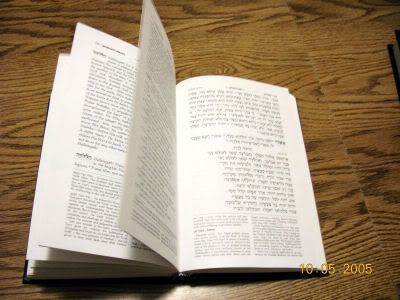 …the pages start turning…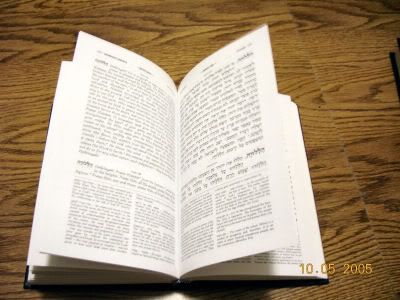 …all by themselves. So that you can't leave the book alone for a minute. NOT ONE MINUTE! This can be both physically and mentally taxing.
Now let's observe what happens when you open Exhibit B: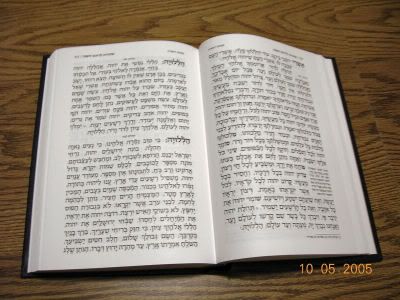 …and leave it alone for a while: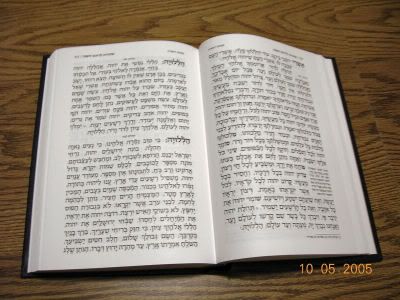 See? It stays put! So you can open your TorahGram or Gemorah or whatever reading material you brought along to the service and the book will be open to the exact page where you left it ten minutes ago, no doubt where the Chazzan is still
kvetching
away.
Now, just for completeness, if you were foolish enough to leave Exhibit C alone on a table, this is what you get: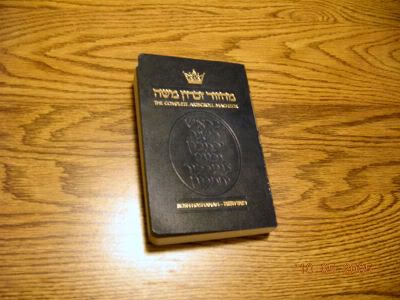 Exactly. Never put it down (sorry Curly).
And that brings me to my fifth point. There are a lot of extra
piyutim
(poems, or extra prayers) in place in Exhibit B. Normally I would consider this a detriment. Why not just exclude the extra prayers that nobody ever says? But in this case, for the High Holy Days, I consider it a plus. Why?
Let's say you are stuck in shul staring at the same page for about 20 minutes while the Chazzan drones on, and on….and on…and ON…AND ONNNN…GOOD GRAVY GET ME A GUUUUNNNNN!!!! Huh? Where was I? Oh yeah, the Chazzan is
kvetching arain
for a good 20 minutes on the same page, and you feel like you're not getting anywhere. Then suddenly, you see some unfamiliar small type on the next page: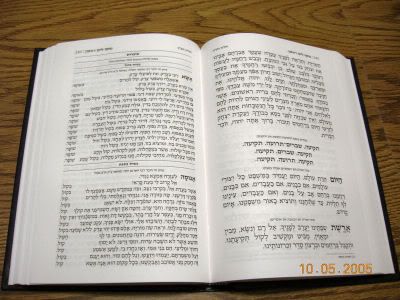 And you realize that it's something that your shul (or any other that you've ever been in) never says. You start turning page…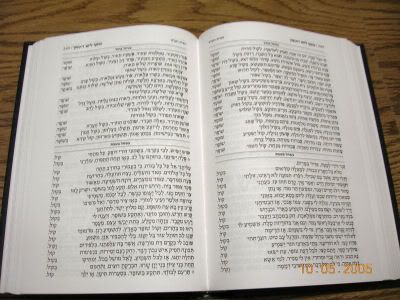 …after page…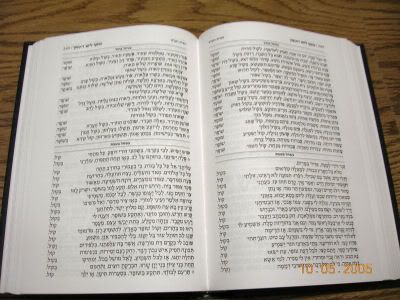 ..after page! Suddenly, you feel like you're making progress! The feeling of elation you get from rapidly turning pages after you've been stuck on the same one for half an hour cannot be described! You have to experience it!
So for this and many other reasons that I can't remember, I highly recommend Exhibit B. And although Rosh Hashana is over, Yom Kippur is right around the corner. Now go out there and buy one!