It's become apparent to me that I need to come up with better aliases for my kids when writing about them on this blog. Keeping the names of my kids off the internet is a good idea for many reasons, especially if I'm going to be posting pictures as often as I do.
But my habit of referring to them by gender and birth order (e.g. Son1, Daughter2) is clunky and lacks the finesse many of you have come to expect from PsychoToddler. So I need to find better names, hopefully ones that are more descriptive of their personalities.
Let's start with the girls:
Fudge
: This one is pretty easy, since she picked out the name herself and I had nothing to do with it. No, I have no idea what it's supposed to mean. I tried asking her and she said something about this being her screen name for an old blog or something. Anyway she's stuck with it, so let that be a lesson to all you kiddies out there: Choose wisely.
Daughter2 (D2): Actually D2 isn't a bad alias. It sounds cool, like T2 for 'Terminator 2', which would be very descriptive of her personality as well. How do you come up with a good nickname for the '
coolest nine year old you know
,' as Fudge described her? I mean, the kid has it all, looks, brains, talent, funny accents, and an ability to flat-out reject guff in all its forms. She can kick your butt in Halo 2, then go upstairs and play the theme song on the piano. Here's an example of what she's like:
My wife is picking her up from school one day, sitting in her van outside. She sees D2 coming out wearing her winter coat and carrying a huge backpack. Suddenly there's an older boy blocking her path and refusing to let her by. Before my wife can get out to do anything, the boy is out of the way, on the ground, and D2 is all smiles, bouncing happily into the van.
"What happened to that boy?" asks my wife.
"Before or after I punched him in the nose?" laughs my daughter.
Spunky. Anyway, D2 is also a reference to '
The Mighty Ducks
,' and I don't think that even applies in this situation. We thought of using some superhero name like '
Dynagirl
' or 'The Warrior Princess,' but I think we'll have to settle with her real nickname, which is what my son 'Larry' (see below) called her after we named her:
Iguana
. It sounds very much like her real name, and for a while, Larry thought it was.
Daughter 3 AKA psychotoddler: OK, many of you have pointed out the problem with this nomenclature. Specifically, that my Blogger name is Psychotoddler, and this site is named Psycho Toddler, and it's confusing to call her that as well, especially because she's no longer a toddler and she is most likely not even psycho. But I mean, come on, she's
the
psychotoddler! There wouldn't even
be
a blog called psychotoddler if it weren't for her! I'm not changing any names, but from here on out, I will use the term "
The PT
" to refer to her. And the "The" is not optional. It is an integral part of her name, like "
The Cheat
," who shares many of her characteristics. So you could theoretically greet her as "Hi, The PT!" or say "You're my favorite The PT!"
BTW her real name means "little bird." See, The PT is more descriptive.
Now for the boys. The three of them were born within a four-year, girl-free time span. So they tend to operate as a unit. I tried to find some parallels with other 3 man teams:
The Three Musketeers.
Well, obviously, there are some problems here. First of all, there seems to be four of them. Aside from that D'Artagnan dude, I can't remember the rest of their names anyway, so I don't think it will be very useful to name my boys after them.
Huey, Dewey, and Louis.
Shouldn't it be Lewey? Anyway you can easily see what the main problem with this analogy is. Exactly. Which one is Huey, and which one is Dewey, and which one is Louis? Aside from wearing 3 different primary colors, they are exactly the same. That's not how I would describe my three sons. Hmm…my three sons…
Naaaaah!
The Three Stooges:
OK, now we're getting somewhere! The analogy is not perfect, so we're going to have to do some finagling to make it work:
Son1: He's going to have to be
Moe
. Moe is the oldest, the ringleader, the guy dishing out most of the abuse. This is a good description of Son1. True, his hair would suggest Curly, but we all know that Curly was actually bald anyway. Irony, folks, irony! Moe is definitely the leader of the stooges at our house. The beauty of this situation is that if you are at all familiar with the Three Stooges, then I don't have to work too hard to make you understand what my boys are like.
Son2:
Larry
. No question here. Larry's the guy who goes along with what the other two are doing. The even-tempered one. The one who ducks out of the way when Moe pokes Curly in the eyes. In our house, Larry is the one who is most likely to say something unintentionally hilarious. For years I kept saying I should write his sayings down, and that's one of the reasons I started this blog.
Son3:
Curly
. Well, here's where the analogy is going to break down a little. Curly in the movies was a bit of a dimwit, also fat and bald. None of these describe my youngest son. He's smart, thin, and has my hair. But Curly is an apt moniker for him simply because it best describes him as the guy who is usually at Moe's throat. The two of them are like bookends, and poor Larry is usually squashed in the middle while they have at each other.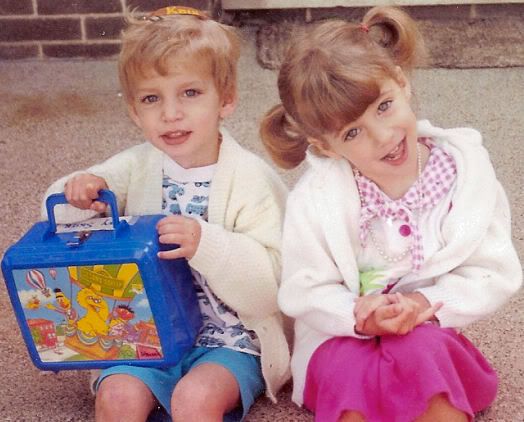 Moe and Fudge: The Early Years
I should make it clear that I don't plan to use these nicknames at home (well, except for Iguana). This is for blog reference purposes only.
If you get confused later on, you may need to bookmark this post so that you can refer back to it. Also, if you feel you have a better nickname for any of them (through personal knowledge or otherwise), I'm certainly open to suggestions.