During my stay in New York I reminded myself of what a meticulous record-keeper my father was. Not only did he keep a detailed diary up until the late '70s, but he also created intricate scrapbooks documenting all the important events in the family. Family vacations to Washington, Florida, Virginia, are all recorded down to the minutest detail. Brochures from hotels and attractions, menus from restaurants, even an itemized expense listing, including money spent on gas, tolls, and tips. In contrast, I have no idea how much we spent on this last trip, and all the hotel brochures are in the trash.
With regards to my entry into the family, he kept and mounted the results of my Mother's pregnancy test, the letter from the hospital confirming her reservation for delivery and the estimated cost ($308 for a five day stay), all of the congratulatory cards (and how much each person gave), and the certificate of circumcision (so there! How many of YOU can prove that you're Jewish?)
He also kept all of the Father's day cards, report cards, etc. Here's a report I wrote in 1973: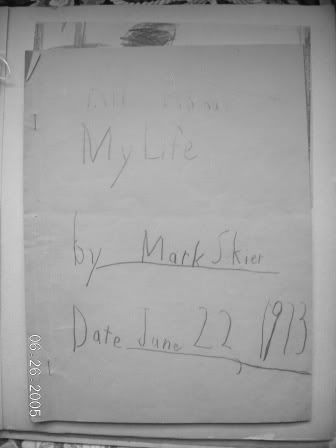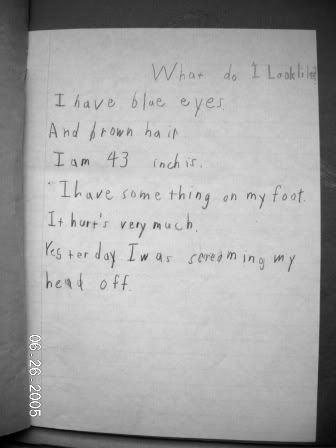 All About My Life:

What do I look like?

I have blue eyes.
And brown hair.
I am 43 inch is.
I have something on my foot.
It hurt's very much.
Yesterday I was screaming my
head off.

My wife says it sounds like what I usually write on my blog. Anyway, it was pretty cool looking through the book. After that we had a conversation where I couldn't remember which one of my kids I delivered. My wife said Daughter2, but I thought it was Son3.
So I guess that's one gene I didn't get.