Parts
1
2
3
4
4.5
5
Dateline: Independence, OH
Note: I bear no malice whatsoever to the people at Abba's Deli. It was very nice of them to seat us even though we were late.
We left Queens a little later that I had anticipated, but I figured, it was Sunday morning and the drive should be pretty fast. WRONG. We ran into bumper-to-bumper traffic as soon as we go off of the Frog's Neck Bridge. This continued until we got over the George Washington Bridge. I couldn't see any accident or construction, and still have no idea why there was so much traffic. I think the bottom line for NY is: There are TOO MANY PEOPLE WITH TOO MANY CARS THERE, AND SOME OF YOU NEED TO LEAVE.
Anyway, at least there was no toll going to NJ. My theory is that if they charged people to go to New Jersey, no one would even set foot in the state. Once we got there, we made up some time. Crossing into Pennsylvania, we were greeted by the sight of the Pocono mountains, still the most beautiful part of the drive. My wife is terrified of the sharp turns and steep drops on this part of the road (or is it just my driving?) so she relinquished control of the van to me and headed to the back. We got some nice pictures on the road.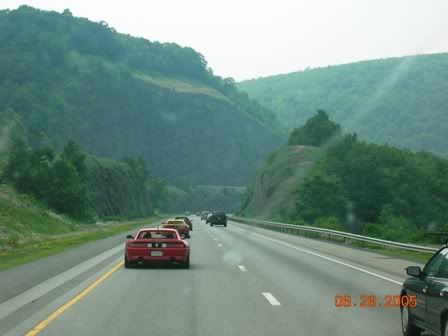 The PTMobile Cruises down I-80 in PA...NOT
Pennsylvania is beautiful, but it's also very long. We got to the Ohio border after 5 pm. At this point I called Abba's in Cleveland and reserved a table for 6:30. Normally I'd be reluctant to give a specific time from the road, but since it was Sunday night, I thought that if we showed up without a reservation, we'd be turned away. (You're saying, "No way! What kind of Jewish restaurant would turn away 6 hungry children who've been on the road for 8 hours?" This one would, and did a few years ago, so I always make a reservation now).
We got to Beechwood at around 6:30, but for some unknown reason (read: bad Karma) we took a wrong turn and headed to Highland Heights instead. It was only after repeated remarks like "wow, this place has changed" and "this doesn't look familiar" and "hey, when did they build THAT?" that we realized we were heading in the wrong direction and turned around.
We got to the restaurant 20 minutes late, and *surprise* they had given our table away (even though I had told them that I was DRIVING IN FROM PENNSYLVANIA when I made the reservation). To be honest they didn't give it away because we were late. They gave it away because they thought we were already there. What? I don't know either. Doesn't make sense to me, but the exact same thing happened last year too, and we were on time then.
Anyway, they were nice enough to give us a table (after someone else left) and we got served around 8pm. Oh, except for my French fries. For some reason they forgot about those. They also ran out of steak knives, so they gave us a boning knife instead.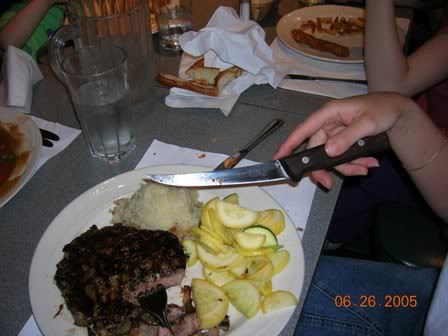 Now THAT'S a knoife!
We were seated next to a lovely couple, who unfortunately were eating with this guy who spoke very loudly and continuously about himself the entire meal. He looked like
Fred Savage
. I kept thinking, "Maybe they won some kind of radio station contest, like 'Have dinner at a Kosher restaurant with Fred Savage.'" Then I thought, "Poor Fred Savage, being reduced to this. He was so great in The Princess Bride." Then I thought, "Poor people next to me, this guy won't shut up." Then I thought, "Maybe I should give the husband the boning knife." Perel and I kept smiling to each other. I'm sure she got a lot of material out of it.
We had to ask 3 times for water, and the bus boy kept telling us "I'll get to it when I can" (NO TIP FOR YOU). Around 8:45, the waiter, after being asked about the missing French Fries, said, "They just dropped them into the fryer, it won't be long." To which I literally responded: "OH! I thought you were going to say 'They just dropped them on the FLOOR!!'" HAHAHAHAHAHAH.....
BTW, I did tip the waiter 15%. The food was good, and it wasn't his fault he was so overworked. Maybe some of those people clogging up the NY freeway system could move out to Cleveland and become waiters in Abba's Deli.
Tomorrow: Homeward bound.
Parts
1
2
3
4
4.5
5