Parts
1
2
3
4
4.5
5
Dateline Hillcrest, NY
We left Liverpool Thursday morning and headed south towards Binghamton on 81. The scenery gradually changed from relatively bland tree-lined highway to mountainous twisting roads and deep plunging valleys. By the time we got to route 17 and headed southeast the Catskills were in full view and it was
awe-inspiring
. Now this was more like it! It was still not as beautiful as the Poconos, but much more interesting than anything we had seen thusfar. At a roadside stop, we learned that the Catskills (which is Dutch for "Cat's Creek") were opened up for vacationing in the 1800's when the railway was completed. And as people poured in from the city to escape the oppressive summer heat, the Borscht Belt was invented.
Along Route 17 we started passing many familiar town names. They were coming back to me from childhood, because we actually spent 2 summers in Swan Lake at a bungalow colony called Shreiberville. I remember that time mostly for bad allergies and good friends, and long hikes in the woods with my Shabbos shoes.
We met up with
Safranit
in Loch Sheldrake. She helps demonstrate one of the interesting by-products of blogging. I knew her from Milwaukee, and she was even a fan of my band and bought several of our CDs. But I don't think we ever said more than a handfull of words to each other in the past. Now, she has made aliyah, and we communicate all the time, and even arranged to meet thousands of miles away from our respective homes!
We met at Izzy's Knish stand and had pizza. She was there with her father, mother-in-law, and her two beautiful daughters (I know their names but I'll leave them out for now.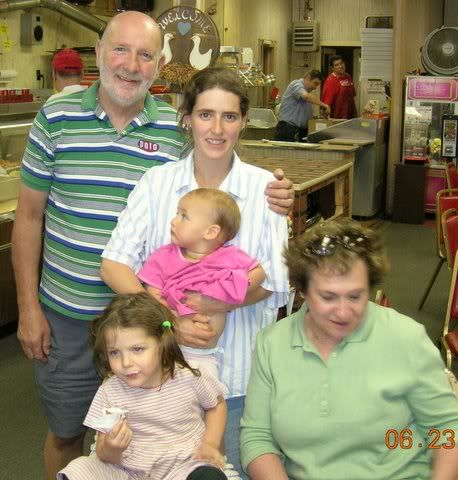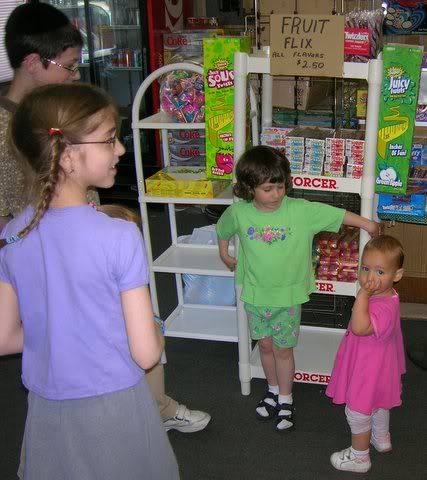 Here we see the PT guarding the candy from Safranit's younger daughter. Not soon enough it seems.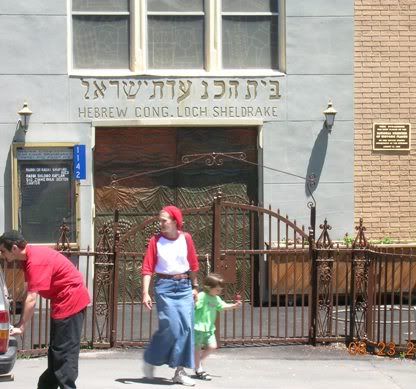 The old Shul in Loch Sheldrake
After a great lunch, we proceeded to NYC. I was insistant that we NOT take the George Washington Bridge. My experience last year had taught me that. We had arrived at the bridge at 3:30 on a summer Friday afternoon, and didn't get across the toll until close to 8pm. There were two cash lanes and 8 EZ pass lanes (and guess which lanes we were stuck in).
So this time, we took the NY State Thruway to the Tappan Zee bridge, then down 95 to the Cross-county, then down the Hutch until we eventually got to the Throgs Neck Bridge (note to self: not the FROGS neck bridge) and into Queens. The timing was excellent and traffic was minimal for NYC. I have intentionally tried to block out most of my memories from living in the Bronx, but the Mrs. has maintained her expertise in the highway system.
We got to Hillcrest and my dad was actually awake. The truth is, he does not look as bad as I had expected. The beard is gone. He has lost probably 30 pounds since I last saw him. He can walk very hesitantly with a walker. I plan to be there Friday when the physical therapist comes. He seems to be quite blind, and has been hard of hearing since I was a kid (and not from listening to me play guitar). He has bad peripheral neuropathy so he can't feel the floor when he walks.
Much to my surprise, he was willing to come with us to visit my sister in Woodmere. I had been under the impression that the only time he left the house was to go to the doctor. I took us about five minutes to get him into the car, which was right outside in the driveway.
We first went to Kew Gardens Hills to pick up my neice. While we waited in the car, I saw a kid (yarmulke and all, maybe 6 years old) peeing on the garbage can and car in front of mine. Welcome to NY!
My mother had this bizarre route to get to Woodmere via the Cross Island because it would avoid traffic. I can't imagine what traffic is like on the other route if it was any worse than what we experienced, because it took us an hour to get from Queens to Woodmere (must be my Karma).
My sister has a lovely house, cute kids, and internet access, so I was able to post yesterday's installment. Her husband works for Google, and he flew in from Arizona last night while we were there, and thankfully, we got to spend sometime with him as well. I feel bad for telling him that, no, he had the Pan and Scan version of Star Wars playing on his widescreen TV, not the Letterbox version, and so he was watching a "squished" version. Bubble bursted. So Sorry.
My other sister came as well with 2 more of her kids and we got some great pictures. You can thank me later for sparing you from those.
Friday I will meet with
Shira
.
Parts
1
2
3
4
4.5
5