Parts
1
2
3
4
4.5
5
Dateline Liverpool...
...New York. What? Didn't know there was a Liverpool in NY? Neither did I. It seems to be a suburb of Syracuse. Personally, I was never enamored with the name 'Liverpool.' But apparently, many Americans are. According to Mapquest, there are 8 Liverpools across the US. Oh well. Could be worse. Could be 'Gallbladderpuddle.' By the way, you Milwaukeeans who are wondering what Liverpool is like need look no further than your own suburbs. It looks exactly like Blue Mound road in Brookfield. Basically one long strip mall, right down to the Barnes and Noble and Walmart.
But I'm getting ahead of myself. We left Toronto Wednesday morning and headed southwest along Lake Ontario. Thanks to our 'traffic misadventure' the night before, we had no trouble finding the road leading away from Toronto. At Hamilton, we hooked back southeast towards Niagara Falls. So far, the drive has been very uninteresting. Michigan looks like Wisconsin, without much roadside scenery. Although there was one interesting sign that said, "Prison Area: Do not pick up hitchhikers" that I really wished I could have photographed. Ontario, on the other hand, looks like Ohio.
We reached the Falls on schedule. It actually kinda snuck up on us. All of the sudden, it was there. It was just beautiful.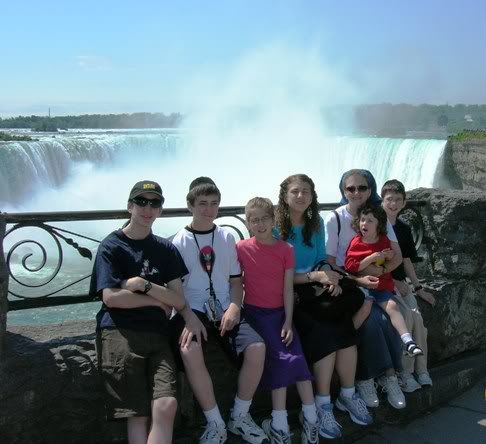 This sounds terrible, but it wasn't as impressive as I had expected. I thought we were looking at the smaller falls, but actually they were the main Horseshoe Falls. I suspect that I'm getting jaded by the over-the-top images from movies like the Star Wars Prequels or that giant waterfall in Moonraker. Maybe I didn't judge the scale correctly. I looked down and saw the tour boats bobbing around at the base of the Falls, and it reminded me of my daughter playing with her toy boat in the tub with the faucet running.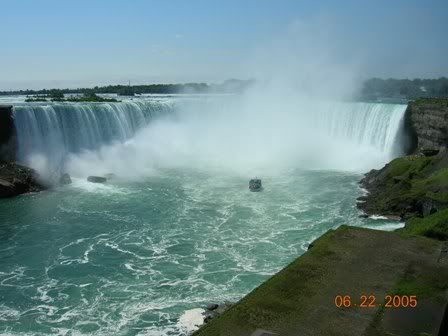 My postcard picture
The area itself is a little too touristy for me. What does "Spiderman: The Ride" have to do with Niagara Falls?
We decided to take the "Journey Behind the Falls" tour, which took us down an elevator to some tunnels dug through the cliffside facing the falls and behind them. It was pretty cool.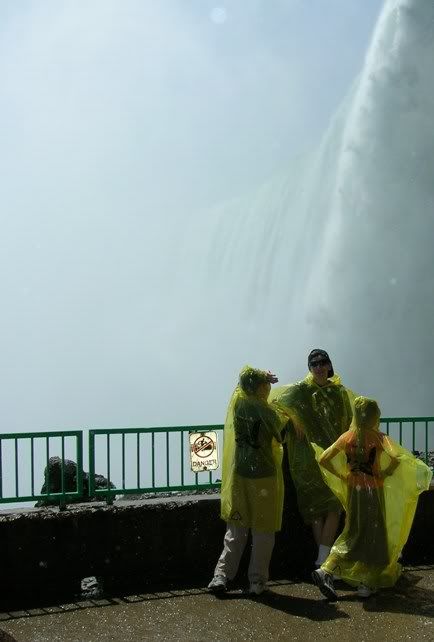 One thing my father instilled in me was never to take "postcard" pictures. These are landscape-style pics that every tourist takes, that you can buy as postcards anyway. My dad said the guy who took the postcard picture had a better camera, so why should I waste film in my Instamatic. Some good examples are the 10 rolls of film that I shot during my trip to Israel in 1980. All mountains, valleys, and various ruins. There's only a handful of pictures of my friends and me, and those are the only ones that interest me 25 years later. So the pictures I took on this trip are mostly of my family with the Falls in the background.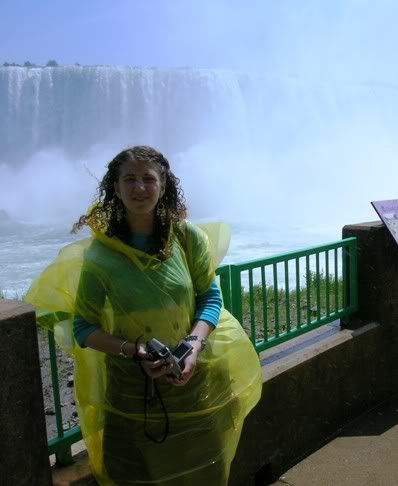 After leaving Niagara, we crossed over to the US, and I could've kissed the ground, because we were back to feet and miles and adequate roadside signage. We headed down to Buffalo, where we came across something very important: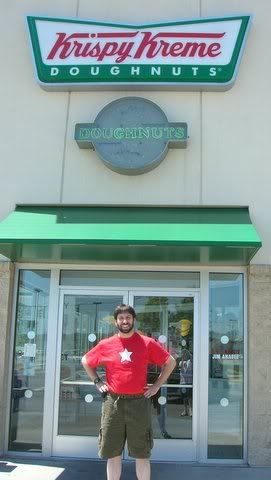 Following this, we got lost for an hour trying to find Nissim's Deli, which is pretty remarkable, because it was across the street. I guess we're getting good and getting lost for an hour. From there, we drove east to Syracuse and Liverpool, where I'm sorry to say they didn't have a computer, but it gave me more time to go over this post in my mind.
From here, we go to the Catskills and beyond...
Parts
1
2
3
4
4.5
5