Parts
1
2
3
4
4.5
5
We pre-empt this regularly scheduled Psychotoddler Blog to bring you a special series on the PT World tour! Yes, the PT clan is touring the world and elsewhere, and I'll be keeping you up to date on our progress when computer time is available.
I realize that in most parts of the civilized world, vacation stories and photos are considered cruel and unusual punishment. However, if there's one thing I've learned from my buddy
Treppenwitz
, it's that people will happily look at pictures of just about anything if they're on the internet. So here goes:
Dateline Toronto: (that's in Canada)
The tour technically started the night before last, as we frantically attempted to get all of our stuff packed and ready to leave no later than 4:45 am the next morning. I swore to myself I would get to sleep early, but instead found myself and my wife at Pick 'N Save at 10pm buying a quart of milk and some donut holes. Then I got back home and got in the shower and went to bed, which I hate doing, and this is why: When I woke up at 4:00 am my hair was standing
straight up
. I looked like something out of a
Final Fantasy
video game. I stuck my head back into the shower and tried to straighten it out.
The Mrs. had said to me: "If you think the PT is cranky when you put her to bed, imagine what she's like when you try to wake her up." Well no problem there. I had looked forward to waking
her
up at 4 am for a change, but she was all bright-eyed and bushy-tailed and ready to go. I guess she's finally at the age where she remembers things from one day to the next and has really been looking forward to this trip.
We davened, ate, packed up the van and managed to get to the dock by 5:15 am.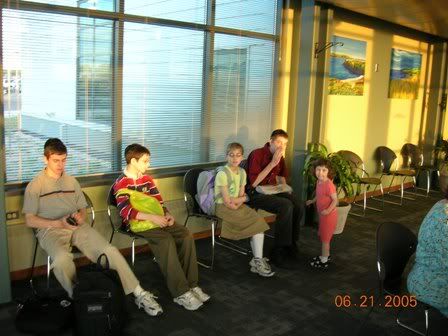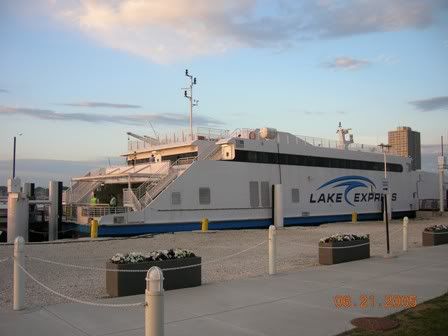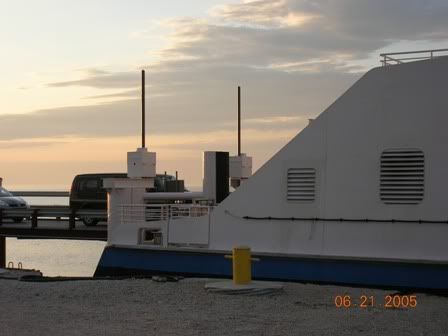 The boat is beautiful and the boarding went smoothly. When we finally got underway, I went out onto the stern of the boat to watch Milwaukee recede into the distance.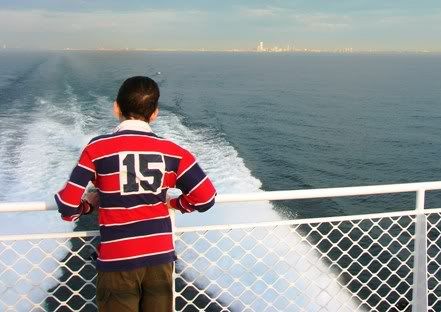 The boat's pretty fast (50mph, not sure how much exactly in knots), and it got pretty windy up on deck. In fact, I tried to take a picture of son3 almost getting blown overboard, but sadly, it doesn't convey well as a still frame. But out on the stern, behind the main structure, we're shielded from the wind, so it's very nice.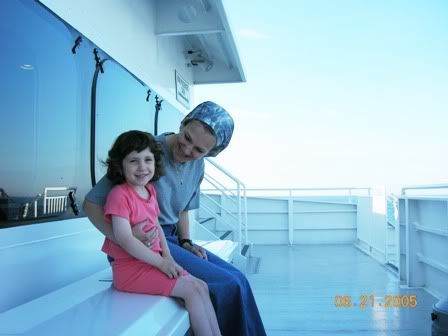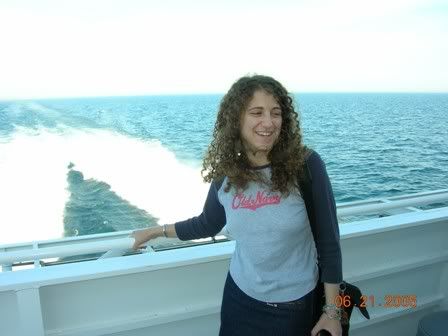 The trip was about 2 1/2 hours. The PT is what you'd call "high maintenance." That means she requires a human being to entertain her or to be at her beck and call every second that she's awake. Don't try to sit down and read a book or watch TV or anything personal.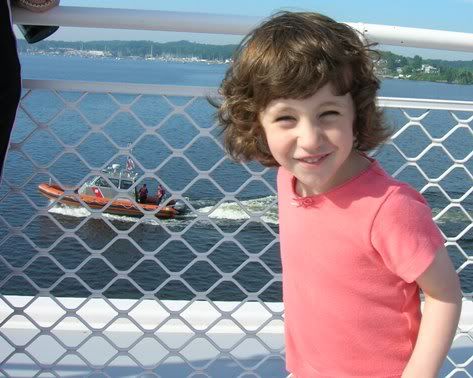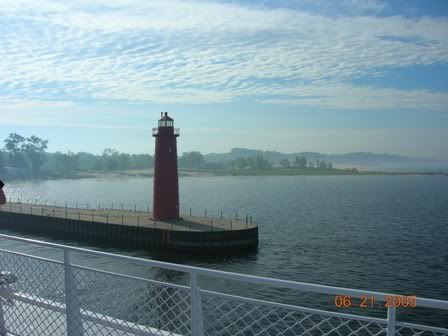 Lighthouse at Muskegon
After we debarked the boat, (which I found out has nothing to do with trees, BTW, ok I know the term is disembark), we we were in Muskegon, MI, where I discovered two things. First, Michigan looks pretty much like Wisconsin or any other Midwest state, so no really interesting scenery on the roadside. And Second, the Triptiks that AAA sent us were completely wrong, in almost every respect. In the old days, you could really count on the accuracy of AAA maps and Triptiks. You could follow them to the foot. This year, they sent us a computer printout of what really looked like a Mapquest search, so I think they may be using the same engine. Anyone who's depended on Mapquest to get to an out-of-the way place in the past can commiserate with me. Basically, none of the street names or turns corresponded to what we were seeing out the window, so we lost the trail. Thank G-d we had the compass on board, and we basically headed east on a side road until we met up with highway. We ended up taking a longish detour, but we were going in the right direction, so I don't think it cost us much in time.
By about 1pm (figuring in the time difference) we crossed over to Canada at Port Huron and stopped at the visitor center (which had signs depicting picnic tables) for lunch. Unfortunately, only the signs had the picnic tables, since the place was still under construction. So we ate on a big rock instead. Cotton seed or something was blowing around all over the place.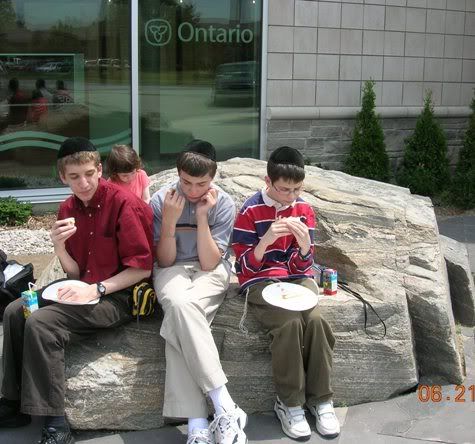 It was here that we discovered that the power doors on the van had stopped working. Everything else seemed to work, but the alarm was not happy. I checked the fuses and found one that was burnt out. Unfortunately, replacing it did not solve the problem. I queried Mission Control to determine if we should proceed or abort, and she told me we were still "Go" so we blasted off towards Toronto.
We had to stop on the road for gas, which is where we encountered the Metric system. Now, don't get me wrong, I'm all for the Metric system. I think it's great for medicine, and for the classroom and in theory and all, but I don't think it should ever be used in real life. I tried to figure out how much I was paying for gas and I was stumped. I know that I paid $2.27 a gallon the night before in Milwaukee. This time, I paid 91 cents (Canadian, Heaven help me) per liter. I bought 88 liters. I have no idea if I paid more or less than the night before. I called my sister-in-law to get directions to the restaurant. I was very tempted to ask if they use a different measure of time as well. I half-expected her to say "We will see you in approximately 3 of your Earth hours."
The rest of the way in to Toronto was uneventful if you don't count the driving or the highway system, and I'll leave that to my wife because she did most of that driving and I know she's dying to let off some steam about it. All I can say is, when a lane is going to end, they should tell you in advance. You should not have to discover this when you end up in the side of an 18 wheeler. And none of this "Allen Road in 100 meters" crap! Use REAL units of measure! Is that a lot or a little? How many "Earth seconds" do I have to move over 3 lanes?
Well, we made it to the hotel, but it took us an hour to get to the restaurant due to "traffic irregularities". I think in retrospect they really do use a different measure of time here, because it didn't seem that we went that far and it shouldn't have taken us an hour. But it gave us some opportunities to soak in the local scenery.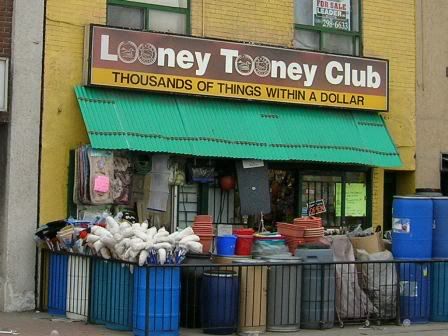 We met my SIL, Laya (Tuesday Wishes) and her husband at King Solomon's table, where they have an amazing all-you-can-eat Chinese buffet for $20 Canadian (I think that's like 33 cents US). I'm sure when we left, the owners were saying "arghh..tis not a man, tis an eating machine..."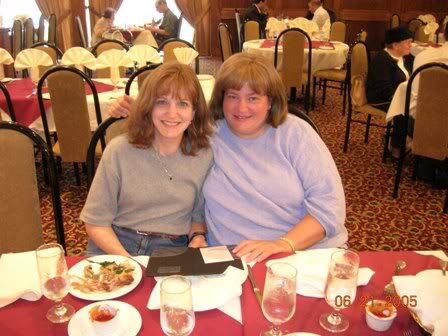 The we went to
Laya's Place
for a while and saw the kids, who are now all taller than me (even the baby). We went for Mincha to Aish Hatorah and davened Ashkenaz for a change (I was stumbling over the missing words). Before we headed back to the hotel,
Pearl
stopped by. That was really nice. I know she was exhausted after her recent trip to Lala land. I could say a lot of things about Pearl, but mostly I was amazed that she didn't have a Canadian accent. She sounded more Bronx to me. Anyway, I should warn the rest of you bloggers that if you do meet me, don't call my daughter "Psychotoddler" to her face. As in, "Oh, you must be the psychotoddler." She's in the dark about that.
That's all for now. I'll try to check in from Niagara falls or Syracuse next.
Parts
1
2
3
4
4.5
5