Yesterday marked 18 years of marriage to
Mrs. Balabusta
. And a pretty amazing 18 years it has been. It's a testament to the power of Jewish marriage that two such different personalities can stay together for so long without driving each other crazy. Yes, we're a little like the "Odd Couple." But they say opposites attract, so...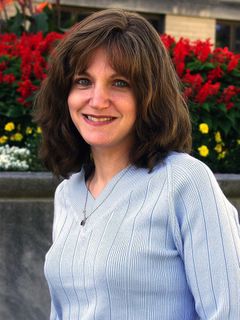 Mrs. B. has been the real force behind this marriage. I don't tell her often enough how wonderful and talented she is. And I'm not about to start here! So I won't mention how she managed to finish nursing school while still extremely pregnant with her sixth kid. Or how she teaches an aerobics class with Jewish Music to a bunch of high school girls who can barely keep up with her. Or how she recently climbed up on the roof to realign our satellite dish.
Here's a quick story from the PT files:
18 years ago yesterday we were married by a Rabbi in Milwaukee. A few days later, we returned to the Bronx, where we moved into our first apartment at Einstein Medical School. We needed a civil marriage license too for some reason, so we went down to the Queens Courthouse to get a civil ceremony. I remember we had to find some witness, so we grabbed a random couple. Then the judge, a very nice Black woman with a denim pant-suit who was standing in front of a sign that read "Please do not throw rice" said some mumbo-jumbo and pronounced us married.
A few weeks later, we received our marriage certificate. My wife read it aloud to me. It said that I was married to Isabel Cortez. I think my reaction was something along the line of, "Dang, woman, where my
real
wife at?" I'm not really sure who Mrs. B. ended up being married to. We never got that certificate. She had to go to downtown Manhattan to straighten it out. It made for a good laugh among the typing pool down there.
The marriage has more or less followed this pattern since then. Here's for many more years of psychotic lunacy!